Interview with Jillian Bartlett
"The Caribbean unions intervened to make sure that labor rights were not 'quarantined'"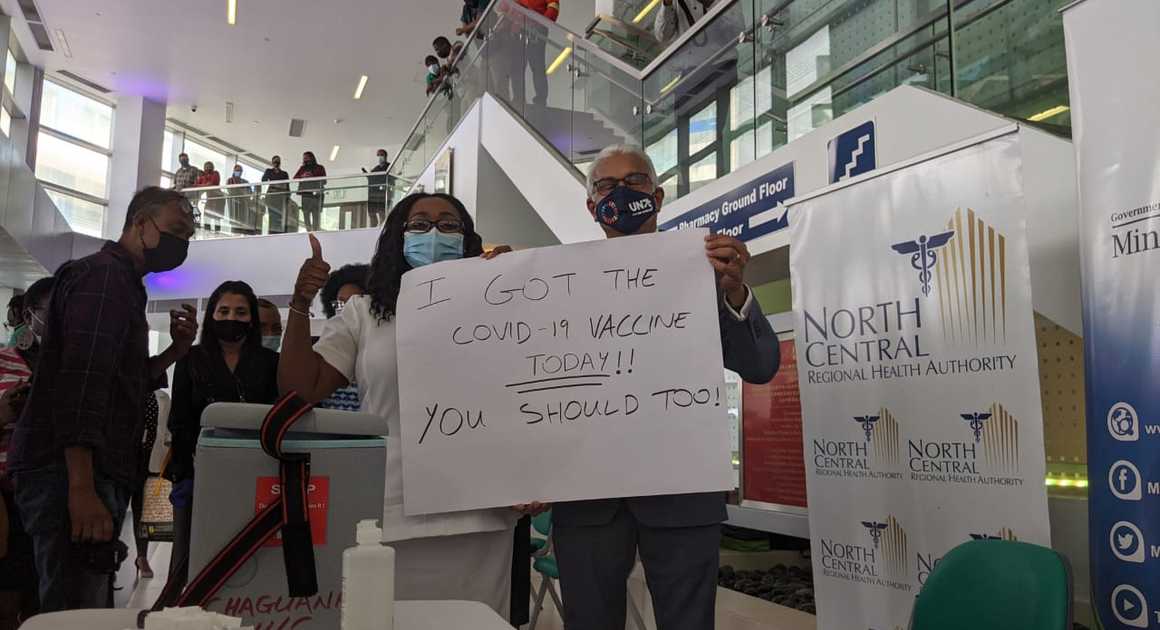 Nurse Keisha Prevatt-Gomez was the first frontline worker in Trinidad and Tobago to receive the COVID-19 vaccine on February 17
In this interview, Jillian Bartlett, trade union leader from Trinidad and Tobago and member of the World Women's Committee (WOC) of Public Services International (PSI) discusses several issues, including the current situation of the pandemic in the Caribbean and trade union actions to face the multiple crises stemming thereof, the unequal access to Covid-19 vaccines, the effects of the coronavirus crisis on women, and climate change.
Bartlett is also General Secretary of the National Union of Government and Federated Workers (NUGFW) and Co-chair of PSI Inter-America Regional Women's Committee.
Read the interview below:
What is the current situation of the pandemic in the Caribbean?
Over the past year the countries in the Caribbean were challenged in various aspects. The pandemic has disrupted every segment of the society and it happened at the same time, so there was no time for any segment to prepare, or for any segment to be able to assist the other segments. It was most difficult for one Caribbean country to help another Caribbean country, because we were all going through the same thing at the same time. Given the fact that it had been 100 years since the last pandemic, the region found itself in a relative state of unpreparedness. However, experiences with dengue and the chikungunya virus helped to provide some guidance. The Covid-19 pandemic is seen as a public health disaster and the disaster management machinery was used to direct preparation, planning and response. The quick mobilisation of resources by regional institutions such as CARPHA [Caribbean Public Health Agency] and CDEMA [Caribbean Disaster Emergency Management Agency] provided much needed direction to the leadership of the various countries in the Caribbean Community [CARICOM]. It must be noted however that the global responses were evolving on a day-to-day basis as more information on combating the virus came to the fore.
The Caribbean countries are very dependent on tourism, and some also provide financial services. Others export raw materials and some agricultural products. But all import finished goods. Right now, in Trinidad and Tobago, with our border having been closed since last year there is an increasing shortage of foreign exchange with one importer making pleas for US dollars. This situation has compounded a serious forex problem that started with the decline in oil prices over the last 5 years. If we continue like this, we could not have enough foreign currency to import goods such as rice, flour, and oil.
The pandemic has disrupted every segment of the society and it happened at the same time, so there was no time for any segment to prepare
So, the pandemic has caused a major economic fallout, stagnation and then decline. The global economy went on a tailspin and since all the regions affected by the virus had decreed travel bans on tourism services, some businesses have ceased to exist. Across the sub-region, governments quickly put in place various measures to assist workers, and businesses. Most Caribbean countries, through CARICOM, would have the same pattern of assistance. In addition to benefits available in various national insurance scheme (social security schemes), there were household grants and food cards. In terms of the industrial relations scenario, in Trinidad and Tobago we tried to introduce something called pandemic leave. In the private sector throughout the Caribbean, there is an upsurge in the number of layoffs, retrenchment, and closure of businesses. Employers were also forcing employees to take vacation leave. In some instances, workers reported that all Covid-19 protocols were not being observed and unions had to intervene to ensure that workers' rights were protected.
How have unions positioned themselves in relation to the health crisis and all the crises that came as a result of the pandemic? What are the main axes of their actions?
PSI affiliates in the Caribbean, from as early as February 2020, had been involved in discussions through social dialogue and social partnership arrangements with many governments. The governments included the unions in the discussions in preparation for measures to deal with the pandemic even before there were cases of infections. Trade unions sought to ensure that already established paid sick and medical leave provisions were expanded to include leave for those who are required to isolate or go into quarantine. Some governments made commitments to not have job losses in the public sector: Jamaica, Trinidad and Tobago. However, you will find that many employers in the private sector were again choosing profits over people, and the trade union had to intervene to make sure that workers' rights, were not "quarantined" and that these rights continue to be respected. The government of Trinidad and Tobago established a task force that was focussed on recovery mechanisms. Michael Annisette, the General Secretary of the National Trade Union Centre [NATUC] was a member of the task force. Among a number of recommendations, the trade union movement also pushed for the establishment and enforcement of safety protocols, provisional mass safety working arrangements, working from home protocols, flexible work arrangements and other guidelines, especially for workers in public services, and who were not directly in close proximity to Covid-19 patients.
The pandemic has established a new set of "essential workers" outside of the established listing outlined in the legislation. So, whereas you had doctors, nurses, firemen, policemen as essential workers, you also had sanitation workers, and all the people in supermarkets, fast-food outlet workers, people in gas stations, garbage collectors because they were deemed essential under the new public health regulations. Even when you had the shutdown period those workers were going out and performing their jobs. The trade union had to ensure that this category of workers, now being seen as essential, had their rights protected.
Many employers in the private sector were again choosing profits over people, and the trade union had to intervene to make sure that workers' rights, were not "quarantined"
The trade unions also had to ensure the supply of personal protective equipment for public emergency services workers and workers in the health care institutions. Supplies were limited, borders were closed. There were issues with the correct ISO standards; there was an issue with reusing personal protective gears. Again, trade unions worked to ensure that workers had the proper PPE in sufficient quantities. Health professionals continued marathon shifts while suffering physical and mental burnout while risking their lives because of the lack of the proper protective gear.
PSI has long warned about the dangers of not sufficiently investing in public healthcare and the people who deliver health services. The Covid-19 pandemic has in the most cruel of ways revealed exactly what those dangers really are. The pandemic itself and the other crises that have emerged or been more revealed perhaps gives us another opportunity to make the necessary transformational changes in our economies and societies. People are talking about "getting back to normal", but at the same time they agree that diversification is needed, and that the Caribbean cannot be so dependent on tourism. Some of our affiliates are talking about this and are engaging with allies to insert themselves in the efforts to bring about those changes.
CARICOM has shown concern for the unequal access to Covid-19 vaccines and has advocated that countries in the region should have more access to them. Have unions been working on this issue?
As the women's titular of PSI Caribbean, I support the position that our affiliate- members have unremittingly delivered vital public services throughout the pandemic. And share the concern that that the monopoly powers given to pharmaceutical companies by the World Trade Organization's agreement on Trade-Related Aspects of Intellectual Property Rights (TRIPS) will mean companies can make extravagant profits, while workers and the public have made efforts and sacrifices, working tirelessly and sometimes in extremely difficult circumstances, to ensure we overcome the crisis. If these waivers are not implemented, pharmaceutical companies will be able to prevent other manufacturers from producing Covid-19 vaccines and medicines, impeding scaling up of production. WTO rules ensure big pharma has a monopoly over the market and can dictate prices even to governments, which will place additional pressure on public finances required for a healthy recovery.
WTO rules ensure big pharma has a monopoly over the market and can dictate prices even to governments, which will place additional pressure on public finances required for a healthy recovery
The pandemic has highlighted the vulnerabilities in the community, especially as Small Island Developing States [SIDS]. We found out that some vaccines will come mainly through the COVAX facility and that countries would also have to purchase other doses. Trinidad and Tobago, like other countries in the sub-region will receive doses through the COVAX facility, Trinidad and Tobago are a part of that arrangement, Governments through CARICOM have had oversight, making sure that there is a system in place to ensure that we in the Caribbean would be able to have equal access to the vaccines. From where I sit it's not about the size of the countries, it's about each life being important and we should do as much as possible to protect and save every life.
The trade union position is that there should be a waiver to the TRIPS rules because, one: the amount of public funds that have been invested in the research; two: human lives are used for the research in terms of tests. And three: we live in a global society and the only way for us to get back to a level of life that would benefit everybody is if everybody is vaccinated as soon as possible. The global companies are not able to produce the number of vaccinations that is needed. So, it must be a concerted joint effort between pharmaceutical companies to develop vaccines that are of the same effectiveness or efficacy, to ensure that we can move past this as fast as possible.
Worldwide, the pandemic has affected women the hardest. How has this been in the Caribbean and how have unions been acting in relation to the effects of the health crisis on female public workers? And, in this moment that in many cases home and work merge, what actions have unions been taking to ratify the International Labor Organization (ILO) Convention 190 on Violence and Harassment in the World of Work?
Like in everywhere else, in the Caribbean region people were shut into their homes. There was an increase in violence, both domestic and even in the world of work. In PSI, especially, through our sub-regional meetings, and through its World Women's Committee, we have been advocating not only for action against violence, domestic violence, and violence against women, but also for making governments act and push for the conventions like ILO Convention 190. And it is not by chance that I believe that Covid-19 has somehow opened people's eyes to the well concealed problem. People know they can no longer go on living their normal lives and turn a blind eye to what is happening. Actually, I don't believe this is an increase. We, PSI at all levels have been advocating for the ending of all forms of violence against women. In Trinidad and Tobago, we have seen a mass movement just like in the United States with George Floyd, when Andrea Bharat, a young girl, left her job site, was on her way home, got into a taxi, and never made it home. So, there have been massive demonstrations, candle lights, vigils, a demonstration outside parliament, calling for action and protection for women and girls. So, I believe that this call will push political action and speed up the process for the government of Trinidad and Tobago to ratify that convention. This is not only a victory for women, but it also vindicates Public Services International and unions in the Caribbean who well-supported the adoption of an ILO convention to protect, women and girls especially, from all forms of violence. I recall many years ago that there were some who said that there is no issue about gender-based violence; now things have come full circle and there is no option but to admit that GBV is an issue in all our countries. So, the intention is to address violence as a public health issue in the region, and that is how we in the Caribbean intend to push forward the ratification of C190.
People know they can no longer go on living their normal lives and turn a blind eye to what is happening
The National Trade Union Centre in Trinidad and Tobago (the national centre for the majority of unions in the country) is identified as one of the implementing partners for the UNFPA's Spotlight Initiative. The Initiative is a global, multi-year partnership between the European Union (EU) and the United Nations to eliminate all forms of violence against women and girls by 2030. Its focus is to build on, consolidate and scale up Trinidad and Tobago's progress in addressing family violence through the existing architecture of laws, policies and institutions. NATUC serves as an example of the critical role that workers' organisations must play in ensuring a safe working environment for their members, and women must be assured of this basic right. The role of policy, education and other mechanisms at the workplace is an obvious tool in this regard. NATUC engaged the Cipriani College of Labour & Co-operative Studies to facilitate its programme of work. The College's expertise on the intersection of training in Industrial Relations and Gender makes it the ideal training provider and consultant in achieving the expected outcomes of this project.
Nevertheless, while I think the ratification of a convention is necessary and needed, ratifying conventions doesn't change the situation. I think the change that is needed is a change in culture and a change in the power relations between men and women, and children, that is not based on the premise that men are superior, wielding more power and authority. I think we recognize now that laws must be put in place together with the convention. In Trinidad and Tobago, the police service has put in place a gender policing unit, a domestic violence hotline, and they have proclaimed that no one man or woman should go to a police station to report domestic violence or any form of violence and be turned away. There has also been a change in how you go to make a report of violence, victims will be put in a private room and discretely make their report so there is dignity for the abused person. These are some of the changes that are needed to end violence and harassment.
One issue that particularly concerns the region is climate change. Is Joe Biden's Presidency and the return of the US to the Paris Agreement a kind of relief? What could change?
Both ILO Caribbean and Public Services International in the region have been speaking about climate change and its detrimental effects. And I'd like to go back, because people need to understand that through the Caribbean sub-region and the PSI sub-regional offices the work that is being done falls in line with global trends and with what has been happening. PSI Caribbean, and most of the time through sub-regional offices, follows a program of action. And we have been meeting and educating trade unions about the detrimental effects of climate change and what actions unions must take to reverse the effects. We sensitize them about the rising sea levels and how that is an important issue for Caribbean nations, especially as Small Island Developing States. There has been increased activity in terms of disasters caused by global warming. So, for Caribbean countries, the issue of climate change is as important as the air that we breathe. It's important that action is taken, or else we run the risk that one day the island that we live on might become a grain of sand.
For Caribbean countries, the issue of climate change is as important as the air that we breathe
We are classified as Small Island Developing States, while those on the American continent, Suriname, Guyana, Belize etc. have extensive coastlines. All of them, some more and some less, are dependent on their natural endowments for the tourism industries, which are a source of revenue and employment. For some countries, they account formore than 90% of the GDP. So, we can well understand that the pandemic has decimated some countries' economies. But in terms of climate change all of them are vulnerable, whether from rising sea levels, more intense hurricanes, or more intense dry seasons and droughts. So, the mere fact that US President Biden has decided to re-join the Paris agreement for us means that we have a fighting chance. Once again, you'll have the United States leading the charge for action. We know that the United States is one the biggest sources of carbon emissions and we know that those are one of the leading contributors to climate change. So, Biden signalling the will to go back to the Paris agreement bears hope for two things: one that the United States wants more to take stock of the emissions, put things in place, to clean up the air, and that the other nations that have high emissions will fall in line. And two, that, once again, we'll go back to the point where you would have smaller nations being incentivized to take steps, whether it be by loan, funding, grants or whatever, to look for cleaner energy. To take steps to put things in place and to employ methods that will have less emission in the atmosphere.