'Boycott LG' campaign
South Korean CSOs call for solidarity with LG Twin Tower cleaning workers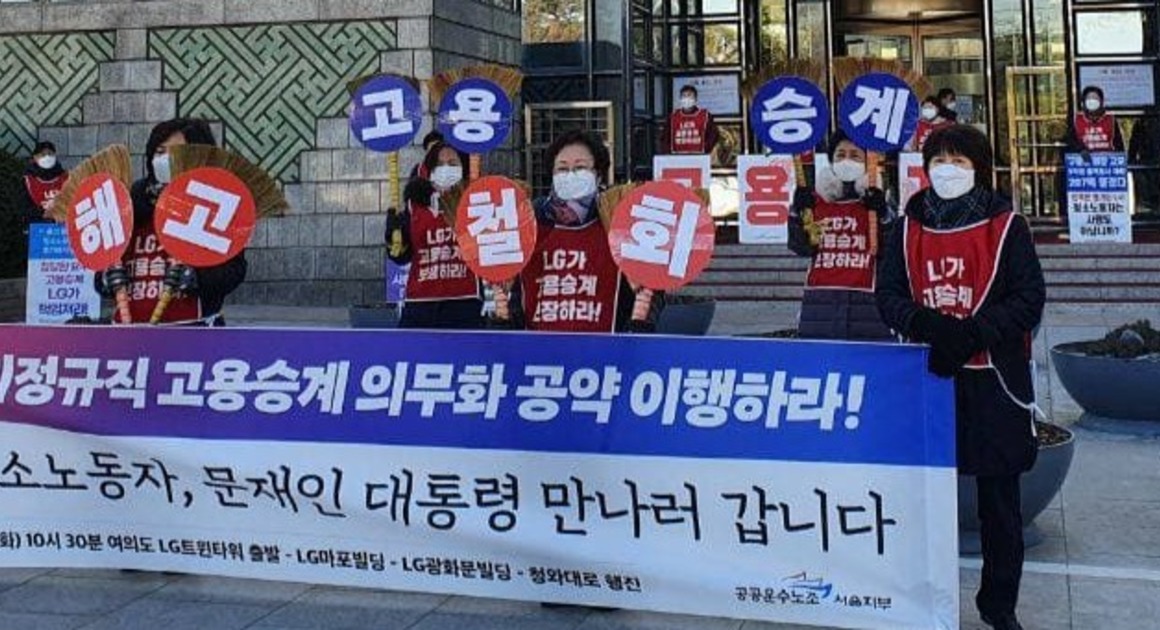 LG Twin Tower cleaning workers, organised under the banner of "The LG Twin Tower chapter of Korean Public Service and Transport Workers' Union (KPTU)", are striking in protest of the mass layoffs of 82 workers by LG on 30 November 2020.
The janitors and sanitation workers began an infinite sit-down in the central entrance lobby on 16 December 2020 demanding the withdrawal of the mass layoffs on. The strike is still ongoing at 64 days.
In response to the strike action, LG cut off electricity and heating for the lobby area and blocked off basic supplies of food and water from reaching the strikers. The elderly janitors were met with physical violence, harassment and constant surveillance from the building security and management. "We don't hire them directly, so we don't have anything to say about the situation," said LG.
On 4 January 60 CSOs started a boycott LG campaign targeting LG Electronics, LG Household & Health Care and LG U+. Over 20,000 South Koreans signed a petition protesting the mass layoffs.
In a negotiation held between KPTU and the employer (S&I) Seoul branch on 9 February the management offered the union to transfer the 30 strikers at LG Twin Tower to another LG building at Mapo in Seoul. The workers rejected this offer as this would impact the current cleaning workers at LG Mapo and continued to demand their jobs back at LG Twin Tower.
PSI Affiliate, the Korean Public Service and Transport Workers' Union (KPTU) and "Labor and civil society coalition for resolution of mass layoffs at LG Twin Towers' cleaning workers", urge people worldwide to boycott LG Corporation's products and services until the demands of the cleaning workers are met — when their layoffs are cancelled, and they are reinstated to their rightful jobs at the LG Twin Towers.
The South Korean multinational has been accused of negligence after a gas leak in India at LG factory killed 12 people and sickened hundreds.
LG must be held accountable for its labour rights abuses.
Stand with the striking cleaning workers in their struggle for their dignity at work!
For more information regarding Boycott LG and the issue visit: