PSI Project
Palestine: Developing a Gender Perspective in Labour Laws
Within the framework of the PSI project "Strengthening Women's Organisational Capacity in the Arab Region", and with the participation of representatives from women's institutions and sectoral workplaces in Gaza, PSI affiliated unions from Palestine organised a workshop on 23 June 2021 to develop a gender perspective on selected articles of the Labour Code.
PSI affiliated unions in Palestine: the Health Service Union, the General Union of Municipality Workers and the Public Services Union, came together to discuss how to help workers achieve a decent working environment, especially after the spread of Covid-19 which had a considerable impact on workers in all sectors and due to the impact of the recent Israeli aggression.
PSI National Coordinator Elias Al-Jelda opened the meeting by speaking about the importance of laws in promoting social protection, and stated that "laws are a measure of countries' progress in a way that serves reality. This meeting will discuss some amendments to the Palestinian Labor Law, which was passed since 2001. Till now, there hasn't been any development in this regard, and therefore we are facing important modifications based on changes in reality."
The President of the General Union of Health Services Workers – Gaza, Dr. Salama Abu Zeiter, said in his intervention, "Today, we face important anomalies in the reality of workers, which makes it imperative to follow the same path towards the rights of workers in Palestine, especially in Gaza. This reality requires us to pay attention to working women, in light of international changes and trends that seek to protect the women's sector. It is imperative and necessary to implement amendments to some articles of the Palestinian labor law."
For her part, Director of Women Affairs of the Public Services Union in Palestine, Samira Abd Al-Aleem, elaborated on the goal of this meeting, "It is part of the activities of the project to strengthen women's organizational capacities in the Arab region, which seeks to change the reality of working women in the Arab region, in a way that guarantees them a decent work environment that contributes to improving the situation of working women and getting them to decision-making positions."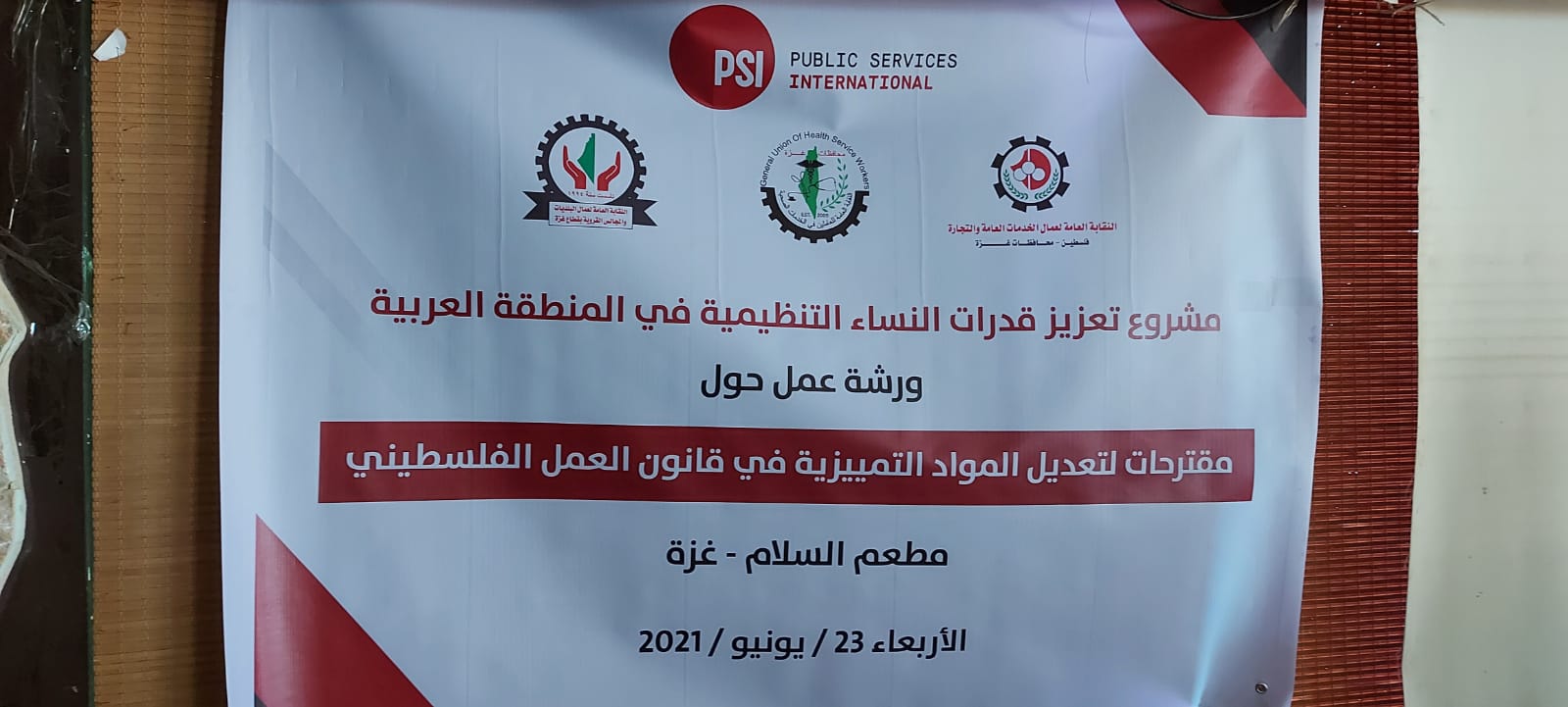 The meeting concluded with several recommendations that will be submitted to PSI to formulate programs that are tailored to the needs of working women in Palestine-Gaza.