On 30 April, the union of nurses in private sector in India, United Nurses Association (UNA) and Public Services International (PSI) sent a letter to the Government of Delhi demanding a change of course from the current reactive approach towards a precautionary approach in addressing the issue of worrying, spiralling COVID-19 infections among health workers in the city.
With more than 3,000 confirmed cases, Delhi NCT is one of the centers of the COVID-19 outbreak in India. According to Joldin Francis, UNA NCR General Secretary, hospitals are emerging as hubs of infection with at least 223 health workers testing positive in Delhi, and more than 400 on quarantine, most of them nurses.
COVID-19 outbreak in Delhi, India
223
health workers tested positive
+400
health workers on quarantine
"If this continues, who will take care of patients when so many of us are unable to work?" asks Francis. "We need to take cognisance of the fact that most hubs have developed in private facilities that are not designated as COVID-19 hospitals. And this points towards the need to not only ensure strict implementation of existing guidelines, but also to the application of precautionary approaches."
Anand Grover, Senior Advocate and former UN Special Rapporteur on the Right to Health, shares this view: "In view of the fact that COVID-19 carriers are also asymptomatic, health workers dealing with them need to be protected and be provided with appropriate PPE as if all patients were 'suspected' COVID-19 cases. The government should provide all health care workers with PPE in public hospitals and ensure that they are also provided in private hospitals. That is their right in law."
A Supreme Court Order dated 27 April 2020 has directed the federal and state governments to explore ways to provide health workers with PPE to protect them from infection.
Irregularities in implementation of existing protocols have also surfaced. "We are concerned about the track record of private hospitals with regard to following protocols, including basic quarantine protocols, and its implications for staff and patients," said said Amitava Guha, Jan Swasthya Abhiyan National Coordinator. "There should be penalties for hospitals that ask nurses to go back to work while their quarantine is not over. The government should institute oversight of private hospitals in implementation of infection control protocols for protection of staff members."
The letter also demands that a formal mechanism requiring private hospitals to report to the Delhi government about health workers who test positive and are quarantined be instituted.
Kate Lappin PSI Regional Secretary for Asia & Pacific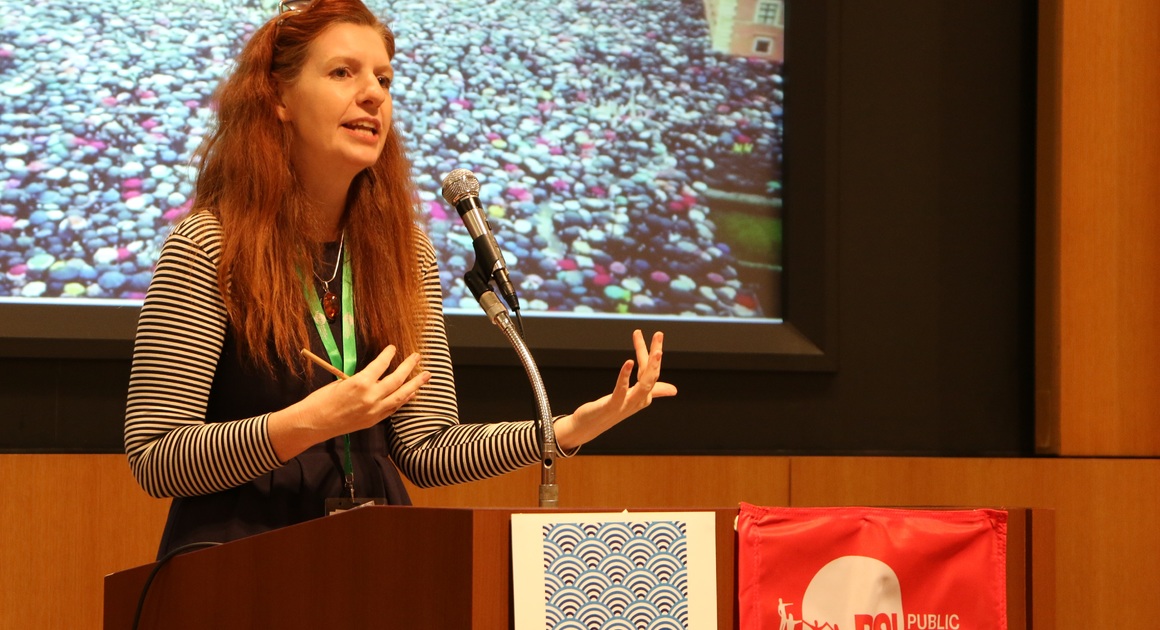 The ongoing coronavirus outbreak is exposing the vital need for quality public services, especially, well-staffed, resilient public health systems
As many workers face the risk of exposure to the virus while contributing to society with their work, the global trade union movement is demanding that COVID-19 be classified as an occupational disease, in line with Conventions of the International Labour Organisations and Guidelines of the World Health Organisation. Last month, a joint UNA and PSI letter was sent to the National Commission on Women highlighting some of these issues.
Health workers unions globally have brought attention to the neoliberal policy direction of the last few decades, which have shaped health systems' weakened ability to respond to this crisis.
"We rely on health workers to save countless lives, but for them to be able to do their job they need to protect themselves adequately today, and take long-term measures too," asserted Kate Lappin, Public Services International Regional Secretary for Asia & Pacific. "The ongoing coronavirus outbreak is exposing the vital need for quality public services, especially, well-staffed, resilient public health systems – this is the thrust of our campaign. Safe workers save lives."
Finally, considering the complexity of the situation and importance of developing timely responses to issues emerging on the ground, the letter demands that "the [State] government should institute an empowered task force that includes medical professionals including nurses' unions in the public and private sector."
Instead of engaging in social dialogue, the government of Delhi responded with an order issued on 1 May stating that nurses and other health workers would have to explain how they contracted the virus if they had followed necessary precautions and use of personal protective equipment. Angry responses from across the population had forced the government to retract the order on that same day.
In a welcome development, the Ministry of Health and Family Welfare published guidelines for the rational use of PPE in non-COVID hospitals, in line with the demands of the union. However, mechanisms for oversights and implementation are still missing.