Kenya Young Workers Union Training, 28-29 June, Nairobi, Kenya
Young workers from PSI affiliates in Kenya participated in the Young Workers' Union Training held in Nairobi, Kenya on 28-29 June 2022 under the project "Organising workers for trade union unity of action, density and quality public services in East Africa" running from 2018-2022, implemented by PSI in partnership with Kommunal and Union to Union. A total of 30 young workers were in attendance.
PSI affiliates that were involved in the event include Kenya National Union of Nurses (KNUN), Union of Kenya Civil Servants (UKCS), Kenya County Government Workers Union (KCGWU), Union of National Research Institutes Staff of Kenya (UNRISK), Kenya Medical Practitioners, Pharmacists and Dentists Union (KPMDU), Kenya Electrical Trades and Allied Workers' Union (KETAWU), Kenya Union of Commercial, Food and Allied Workers (KUCFAW) and Kenya Universities Staff Union (KUSU).
The main objectives of the meeting were to:
Make an analysis relating to attitudes by young workers towards trade unionism

Highlight Trade Union Values and Principles and how they are used inside and outside of the trade unions.

Understanding the basic concept of effective leadership among young workers.
From the plenary and group discussion it emerged that many young workers, especially those who were attending the meeting for the first time, did not fully understand the mandate of trade unions and its core values. This showed the training gaps in terms of trade union ideologies. In addition, considering that many trade unions in Kenya had just held their QDC in 2021, many young worker leaders were still new and therefore needed more capacity building to appreciate what trade unions stand for, fight for and believe in within the context of social justice.
Young workers also shared the challenges they faced in terms of trade union effective engagement and participation. Some of the challenges presented and discussed included: the negative perception by the older generation that young workers are not capable because of being "too aggressive"; punitive union constitutions especially when vying for certain positions in the union; lack of trust that the young workers can actually deliver quality and efficient services just like the older generation; lack of recognition of young workers in the union; not being involved in key decision-making organs in the union; underutilization and overutilization; intimidation and victimization and not being given the opportunity to showcase their skills and experience.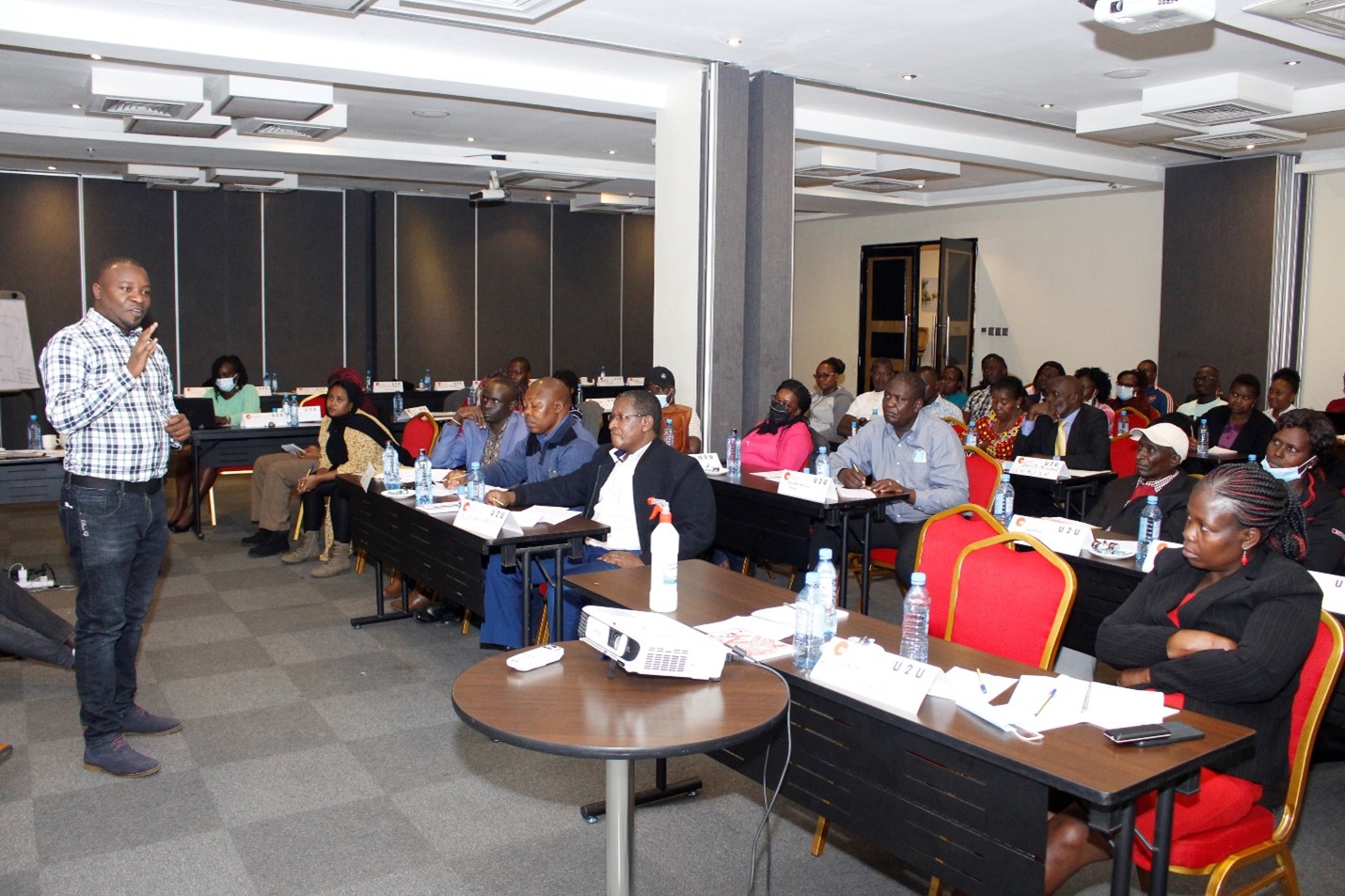 To overcome these challenges, the young workers proposed that: young workers should be provided the opportunity to prove themselves; amendments to the union's constitution to have friendly clauses that encourage young workers to participate in all positions in the union structures, as some unions require a certain amount of experience before contesting for certain positions. In addition, deliberate mentorship should continue, as was with the case with some young workers who participated in the PSI training, which has provided them with the skills to compete for higher positions, like the current KMPDU General Secretary, Comrade Davji B. Atella. Comrade Davji had the opportunity to share his experience as one of the youngest General Secretaries and also a product of PSI training for young workers since 2020. The PSI capacity building gave him the skills and courage to contest for the top office in 2021 and was able to win.
In terms of leadership skills, young workers were taken through the different leadership dynamics within the labour movement; on how they can be better leaders and fight for their spaces in the union by understanding the "union politics"; and how to manage the politics by knowing themselves better, knowing others and how to manage relationships. It was emphasized that it is important for young workers to sharpen their leadership skills because great leaders influence people and have good emotional intelligence to be able to handle the "pressure" in the union and in their workplace.
Towards the end, the young workers were given the opportunity to share the challenges and opportunities for organising young workers who are currently a majority of the workforce but also face a lot of job insecurities in terms of casualisation, short-term contracts, intimidation and lack of clear knowledge on union values and causes beyond salary negotiations. The interaction with the various union organisers was an important element towards ensuring unity of purpose among all category of workers and increasing membership that will have a ripple effect on an increased financial base.
By the end of the training, a majority of the participants were able to express themselves freely including through plenary presentations from group work, which is vital in building confidence in public speaking and communication skills as well team work, which are critical characteristics of great leaders.
Event
The Young Workers Leadership Workshop will be held in Nairobi, Kenya on 28-29 June. This project is being organised within the framework of the "Organising workers for trade union unity of action, density and quality public services" project implemented by PSI in partnership with Kommunal and Union to Union.