FIGHTING FOR A FEMINIST, DECOLONISED, GREEN SOCIAL CONTRACT
#IWD2022 Messages from Community Health Workers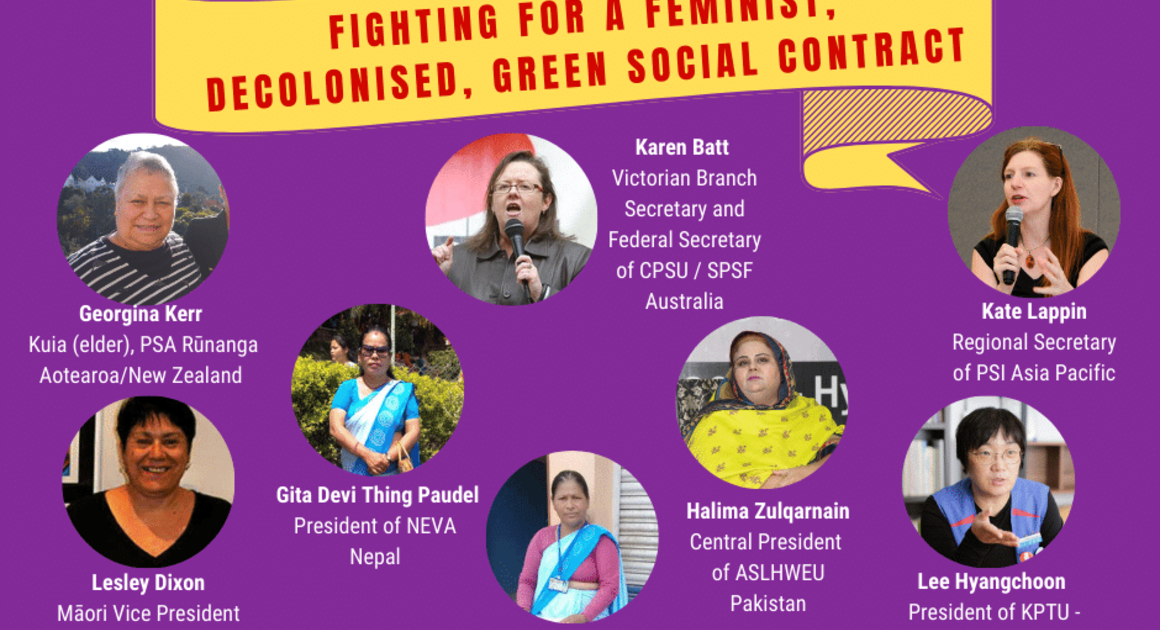 #IWD2022 message from Rita Bhujel – President of HEVON, Nepal
Namaste to everyone.
My name is Rita Bhujel. I am a Woman Health Volunteer, and I live in Kavre District, Banepa Municipality, Ward No. 6. I have been working as a Community Health Volunteer since 1992, and I have been working with HEVON since then. This is my short introduction. We have been working in HEVON independently, as well as collaborating with NEVA on various campaigns. Working with NEVA jointly we have achieved a lot. In our current situation, climate change has affected us very much. Because of climate change, we have been suffering from unexpected flooding which has made it difficult to work. This current outbreak also made it difficult for us to work.
We have dealt with adversity. In the early days our neighbors used to backbite us because we are women. Now FCHVs are mobilized by Local Level Government. When we demanded pay according to our duties, and the work we have been doing, representatives from the local government shouted at us, saying Community Health Volunteers are always asking for money. "How much money do you need? You people are volunteers and work voluntarily!" Being women, when we submitted our charter of demands, they threw it in the dustbin. "I don't recognise you people. I don't know anything about unions, parties. I can't do anything for you and I won't do anything for you." These words were said by an employer. We have been facing these kinds of things.
Regarding health work, we think it should be separate and we should be mobilized by the central government instead of at the local level. If the central government formulates policies and regulations focusing on our work, it will be easier for us to work in the community. Working with the local government is very hard. We want to share many things, but there are many stories which our fellow workers we also want to share. I want to conclude my short sharing. Thank you. Namaste.
#IWD2022 message from Gita Devi Thing Paudel – President of NEVA, Nepal
Namaste. I am Gita Thing Paudel. I am a Community Health Worker from Nepal. For the last 27 or 28 years I have been working as a Community Health Worker in my ward.
Recently I have been working as President for the Nepal Health Volunteers' Association (NEVA).
Our union is working for the rights of Female Community Health Workers (FCHWs). We have been helping FCHWs in solving their problems and submitting demands, as well as raising our voices to the Nepal Government. This has resulted in some of our minor demands being addressed, including increased facilities. Sharing our working experiences over the past 28 to 30 years, we FCHWs have faced many problems. Among these problems, climate change has affected our work, making working conditions very difficult. In these difficult times, we FCHWs are united and dedicated. And in remote villages, FCHWs are working hard and without negligence. They are very committed and dedicated towards their work.
During their work in the field, we heard that many FCHWs in remote areas are swept away in floods, buried in landslides, broken limbs and so on. The Nepal Government has not shown any concern towards solving the problems of safety for FCHWs. For this we have been raising our voice to address this issue. Recently during the COVID-19 pandemic which the world has been facing, FCHWs could not remain untouched. Because of COVID-9, FCHWs died and many were infected.
That is why this climate change has affected us directly as well as indirectly in many ways. And our Government has not provided us with any facilities and services. While working in the community, we are treated well by some of our community members and treated harshly by others, saying unfair words. Even when we are treated badly, we have been raising awareness in our communities.
During Corona times also we have been working selflessly without facilities. Some of our male colleagues working in the health post have supported our work, but many of them have also created hurdles. "You women are volunteers, why do you need anything," is usually the voice raised by our male colleagues.
Even though they say these kinds of words, we remain dedicated towards our work. And we have been raising our voice that we are not only Female Community Health volunteers we need our recognition as Community Health Workers. From this video, I hope our voice will reach the Nepal Government, and I want to conclude. Thank you. Namaskar.
#IWD2022 message from Halima Zulqarnain – ASLHWEU, Pakistan
My name is Halima Zulqarnain, Central President of All Sindh Lady Health Workers and Employees Union. In Pakistan, Community Health Workers program started in 1994 which is also known as Lady Health Workers program. The basic objectives of this program is to provide essential primary health care services to mother and child, vaccination, family planning, nutrition awareness and polio vaccination is also our fundamental responsibilities. In Pakistan 124,000 Lady Health Workers are employed in this program. Initially, Lady Health Workers were not recognized as government employees. Due to which they were deprived from all legal benefits that are granted to a government employee. We formed our own union at national level and started struggle for our legal rights in all big cities and in federal capital. We organised protests, demonstrations, sit-ins in front of parliament house, Supreme Court of Pakistan, press club, mobilized media and networking with civil society and other trade unions.
We were subjected to state violence, many of our sisters arrested, injured seriously due to baton charges of police but we continued our struggle. As a result, in 2012 all Lady Health Workers were recognized as permanent government employees.
Despite, inappropriate safety measures by the government, lady health workers played the role of frontline health workers sometime risking their lives and they are now performing their duties to provide covid-19 vaccination to every citizen in urban, rural and remote areas.
Despite, having government employee status Lady Health Workers are deprived of their basic rights such as service structure, up-gradation, pension and gratuity. Even, we have no security of life. In the beginning of this month, one of our lady health worker was shot dead (martyred) on her way back from duty. Many of our Lady Health Workers have been martyred by religious extremists.
We believe that women workers in Pakistan, including Lady Health Workers are facing extreme unfavorable conditions on the social, economic and political fronts. Despite, ratification of ILO Conv 100 and Conv 111, gender inequality is a major issue for workers including lady health workers in Pakistan. They are discriminated on the basis of gender. They are not given same wages for the same work.
The health department has given service structure, pension and gratuity facilities to male government employees but same grade Lady Health Workers are deprived of these facilities. According to Pakistan's civil service rules, employees should be promoted to next grade after every 5 years. Whereas Lady Health Workers have not been upgraded for last 10 years. Union is constantly struggling against this injustice and this fight will be continue till success.
On other hand, the capitalistic way to economic growth has not only given birth to poverty, deprivation and wars, but has also dealt a deadly blow to the global climate, endangering not only humanity but all life on this planet. Pakistan is also includes in one of the worst climate affected countries. Due to climate change, lady health workers are facing more problems in their work. Due to climate change in Pakistan, glaciers in northern areas are melting rapidly which is causing flood situation. The winter season has seen more snowfall this year than last year. In urban areas, lady health workers are exposed to smog and heat waves while working from door to door in the community. Government is not taking any appropriate steps to deal with this situations and not providing any training or safety equipment to lady health workers to tackle these conditions.
The guidance and support provided by PSI to strengthen the union and enhance its leadership capacities, has increase the strength of the union and emerged as more effective and powerful voice in support of its demands for rights of lady health workers
Thank you.