hear the voices of our children in cages
By Rosa Pavanelli
Hear the Voices of our Children in Cages
With today's unprecedented levels of forced displacement driven by conflicts, violence, extreme poverty and climate change, children are among those who are the most heavily affected.
In fact, half of the world's refugees are children and young people.
The situation of children in detention on the border between the US and Mexico is emblematic. Instead of providing them with public services such as healthcare, social services and education, US authorities have ripped them away from their families and subjected them to inhumane treatment.
Key Figures
50%
of the world's refugees are children and young people
10,500
children are detained in the US
It's unacceptable that, as we write these lines, 10,500 children continue to be detained in reception centres in the US, separated from their families.
Faced with this unacceptable situation, last year, PSI affiliate the American Federation of Teachers (AFT) filed a complaint to the United Nations Human Rights Council, the UN intergovernmental body responsible for strengthening human rights promotion and protection and addressing situations of human rights violations worldwide.
And just a week ago, along with sister global union Education International (EI), PSI and AFT organized a rally during the Council's session at the UN in Geneva to amplify the voices of these children and to appeal for the Council's urgent action. The complaint is currently being considered for examination by the UN body.
To make things even worse, profit-seeking companies are capitalising on the misery of migrant children and families in detention. It is in the interest of these companies to not only keep the migrant children in detention, but also to increase their numbers and so maximise profits.
Many workers will be shocked to learn that their pension funds may be being used to finance the detention of children at the US/Mexico border. Research has shown that workers' pension funds are often invested in the stocks of these companies, either directly or through pooled funds.
We cannot allow this to happen.
Workers must demand that such investments are exposed and put a stop to them.
We call for unions around the world to pledge to divest from these funds immediately – please sign a petition to End Private Prisons.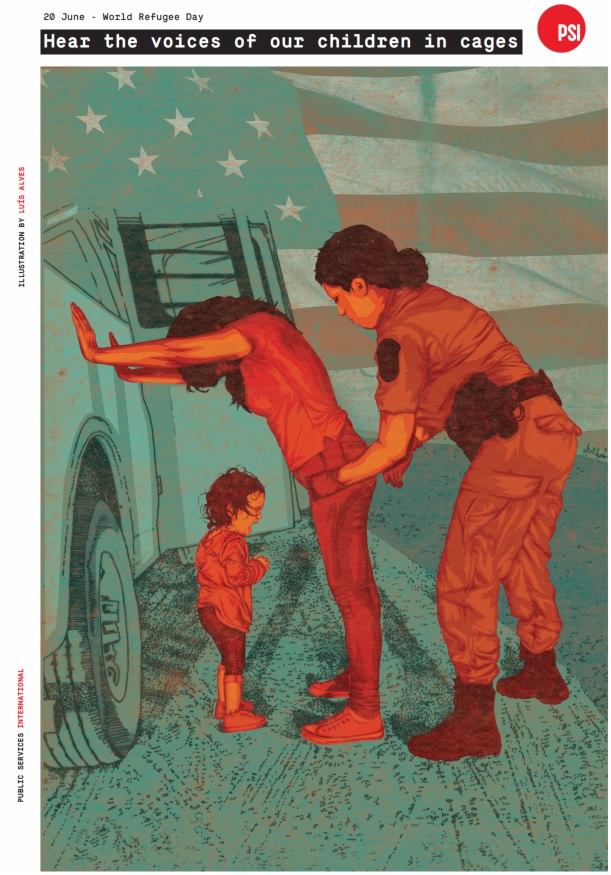 On World Refugee Day, PSI denounces the multibillion private prisons industry for which detaining migrants has emerged as a lucrative new source of profit.