East Africa PSI affiliates (24) under the project sponsored by Kommunal and Union to Union, "Organising workers for trade union unity of action, density and quality public service" came together in Nairobi, Kenya on the 8th and 9th December 2022 to evaluate and assess the contribution of the project for the last five years; (2018-2022). The project objective was to increase union density, unity of action and provision of quality public services.
In attendance were comrades from Sweden represented by Catarina Silveira – Union to Union and Maria Ostberg-Svanelind – ASSR on behalf of Kommunal. From PSI were Luis Monje – Project Officer - Head Office, Sani Baba - Regional Secretary - Africa & Arab countries and Dr. Everline Aketch – Sub-regional Secretary, ESA. This meeting was coordinated by Jackie Nalubega - East Africa Project Coordinator. A solidarity message was delivered by Sis. Caroline Kasina of Solidarity Center.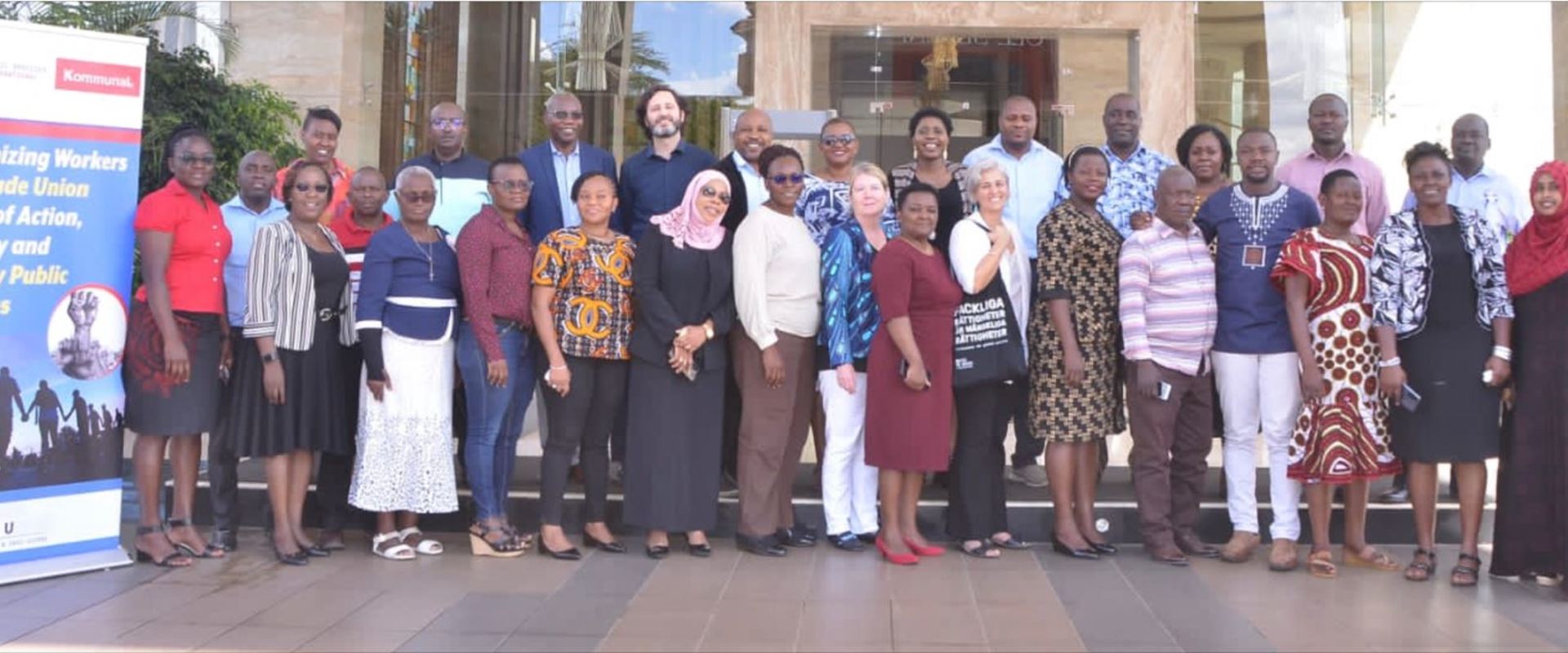 The project was launched in 2018 with the main expectations of increasing union membership, ensuring financial sustainability, increasing union density with special focus on women and young workers' greater involvement in trade union activities; and increasing unity of action among the affiliates. During the evaluation affiliates provided feedback on the success, challenges and lessons learnt as a result of the project for the last five years. In relation to membership, it was observed and reported that over 50% of the affiliates had registered an increase of more than 15% in some instances unions having 30% increment surpassing the projected outcome of 15% increase at the start of the project. The increase in membership was mainly attributed to the trainings and workshops that provided skills on how to undertake strategic organizing including equipping women and young workers with skills to recruit and organize fellow women and youth respectively. Additionally, some unions adopted the strategy of introducing various sports and events for young workers, online recruitment strategies and improved terms of Collective Bargaining Agreements that led to more potential members join the unions.
Women and young workers' participation over the last five years had also greatly improved as evidenced by positive stories and testimonies of a number of them occupying union leadership across all structures of the unions. For instance, in Uganda, Kenya Tanzania and Rwanda a number of women were holding positions of Chairperson (UPEU, KCGWU, TUGHE, RAAWU,) General Secretaries (ZAPSWU, ZAPAU), Treasurer (KMPDU) just but to mention a few. More young workers had also been elected at various positions both at national and regional/branch levels. For instance, the Secretary General for KMPDU, who was a beneficiary of PSI young workers union training under this project, informed the meeting, that his inspiration to go for the top leadership was due to 2019 and 2020 Young workers PSI trainings which led to his election in the position of Secretary General at the age of 31 years in 2021.
Unions reported increased unity of action across all the 5 countries whereby they are holding joint press statements, joint negotiations with governments and other policy makers, which was not the case before the project commenced. Several strides had also been made among the unions that had demarcation challenges in terms of having joint meetings and agreeing on how to proceed. Unity of action was similarly revealed by the number of top positions occupied at national centres for all the countries as a result of lobbying and supporting each other at that level. In Tanzania the top four national centre positions were being held by affiliates from the four PSI unions. These include, the General Secretary, National Chairman, WOC and young workers' representative. Similar reports were made for Kenya, Uganda, and Rwanda.
However, the implementation of the project also faced a number of challenges especially as exacerbated by the outbreak of Covid-19. Practically, the unions noted that they had lost two years of adequate organizing that would have given better results as envisaged by the project. The freeze on employment in the public sector, retirement, introduction of contract work, interference by the Salaries and Remuneration Commission (SRC) on stopping implementation of CBAs for the case of Kenya and low adoption of technology to enhance digital organizing were some of the issues that unions had to deal with. Despite the challenges, the affiliates noted that the project had a huge impact on the unions' growth and building unity. As per the general analysis, the project had contributed averagely to the overall development objective of 'public services trade unions in East Africa building a society based on justice and equality with quality public services that are accessible to all'.