#AllWomen
A woman's healthcare worker experience during COVID-19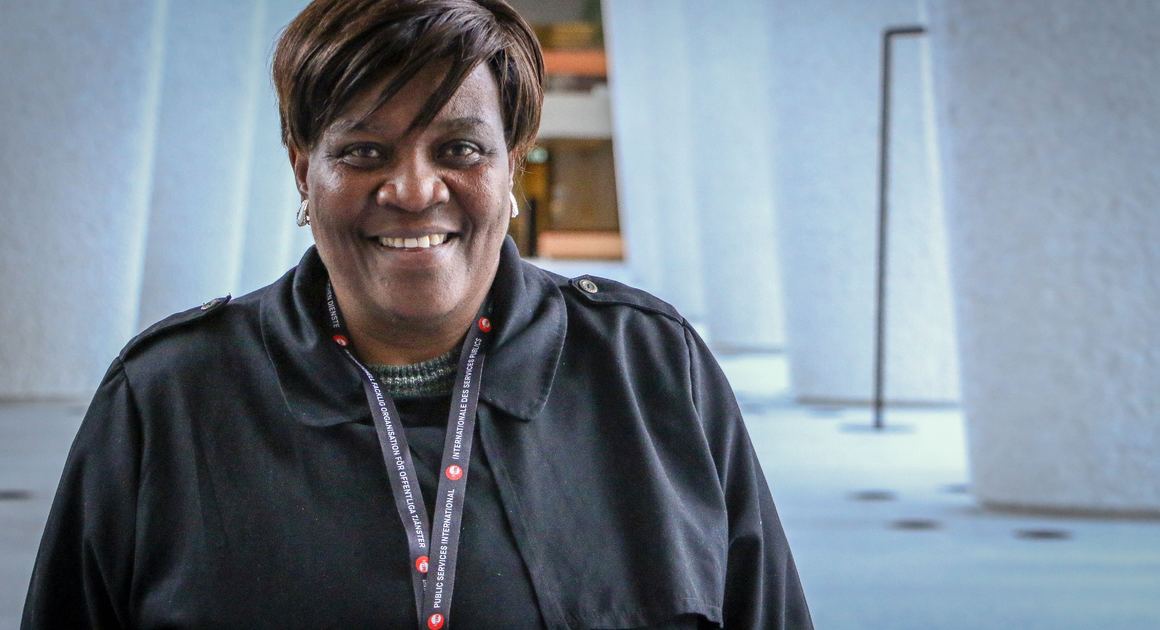 Irene Khumalo. Photo: Leo Hyde/PSI
My name is Irene Khumalo, I am the PSI WOC global chairperson and also work as a nurse manager in one of the public hospitals in eSwatini (formerly known as Swaziland). I am married and a mother of four children; my husband works for a clothing company in one of the cities in Eswatini and he normally stays next to his work place. He comes home on holidays and on off days and my children come home on holidays since they are schooled in boarding schools.
The COVID-19 pandemic is a crisis for the entire population in the country currently the number of COVID-19 infection is at 184.
Healthcare workers are frustrated as the pandemic came when the country was ill-prepared to respond to the pandemic. The nurses union Swaziland Democratic Nurses Union (SWADNU) had to petition the ministry of health and the prime minister's office respectively demanding personal protective equipment, additional nursing personnel and capacity building on COVID-19 as a means of preparedness for the pandemic.
It is so difficult to be a woman during this pandemic both at home and at work place. Currently, Eswatini is on partial lockdown, schools and some companies are closed including my husband's company, which means the family these days is at home.
Home challenges
My kids do not take it kindly that they should be indoors and continue with their e-learning sometimes they have unnecessary attitude which I have to bear as a mother. It is very difficult to manage because we are not used to staying together for long periods, most of their time they spend at school. While I am happy to be with them during this time they eat a lot and food prices in supermarkets are high nevertheless I have to take care of them, reassure them on this eventuality of COVID-19 and that the country is trying hard to fight the scourge.
As a mother I have to try by all means to take care of each and everyone's needs, try to support them to allay their anxieties and reassure them that everything will be alright, while nobody is taking care of my stress.
My husband's company is closed since it's a non-essential company selling clothing. I suffer emotional trauma as he stigmatizes me saying I will bring COVID-19 home, a mere cough from a throat irritation means I have COVID-19 according to him and he gets so irritated. As I said, his company is closed and he was told his salary will be cut by 20% affecting his budget and full participation in home management. The anger he has is displaced to me and I am being scolded unnecessarily at time.
I am actually feeling the impact of the lockdown as it has made us not support each other but instead enemies the moment you are from work you are asked "what do you do with your uniform when you come back from work" as if I do not know what to do. I am so frustrated.
Workplace
The shortage of personal protective equipment in the workplace has also imposed its effect and stress on all workers. Thus, workers decided to embark on an industrial action against government. They stopped seeing patients and removed themselves from work; nurse managers were forced to work without personal protective equipment taking care of all patients including COVID-19 suspected patients wearing only a surgical face mask or N95 respirators only.
Only prayer could save me since as a nurse manager it does not mean I am immune to the COVID-19 infection; everybody knows that it is a highly contagious infection. Up-to-date protective equipment is still not complete, our government is still struggling to purchase personal protective equipment. We are currently relying on donations.
I suffer emotional trauma, fear of contracting this deadly highly contagious COVID-19 infection. It is worth mentioning that the environment at home is not healthy either. As a mother I have to try by all means to take care of each and everyone's needs, try to support them to allay their anxieties and reassure them that everything will be alright, while nobody is taking care of my stress.
Women health workers have to undergo psychotherapy for emotional support.
Recommendations
Employers should supply enough and complete personal protective equipment so as to prevent exposure to COVID-19. They should also employ enough personnel and reduce the working hours of each worker.

Transportation of women health workers should be ensured to protect them from exposure to COVID-19 in public transport and to gender-based violence.

Wellness programmes at workplace should be active so to take care of all the needs of healthcare workers both physical and mental. As nurses most often suffer from headaches and non-communicable diseases related to the intensity of work. Social workers should offer all services as required by women healthcare workers.
Sexual reproductive health during COVID-19
During this COVID-19 era, all sexual reproductive health services are offered including pre-conceptual, antenatal, maternity, family planning and other related services. They should be offered because if denied there could be high rates of maternal deaths, unintended pregnancies and non-therapeutic abortions.
Conclusion
Governments should make sure that all healthcare workers are protected, given adequate protective equipment, if possible given tax holiday to protect their economic status, infectious disease allowance and health insurance as some countries are doing, increase salaries for healthcare workers as a motivation to work even in these tough times of COVID-19.
All in all it is not easy to be a wife, mother and a health worker as well in such difficult times of COVID-19.