PSI together with Corporate Accountability and Public Participation Africa (CAPPA) is holding Africa Water Week of action from the 11th-15th October. The main aim is to call on governments and Bretton woods organisations to stop the push towards PPPs in the water sector in Africa as well as call for re-municipalization of water in countries where PPPs have been implemented.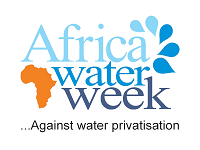 Join in solidarity with movement leaders fighting for water justice on the African continent
A number of PSI affiliates from Senegal, Nigeria, Kenya, Ghana will be participating in this event in collaboration with local CSOs in their countries.
PSI and CAPPA have been leading a successful campaign to stop the neocolonial attempts by the World Bank to privatize the water system of Lagos, Nigeria. And they recently launched partnerships in several other countries in Africa, under the banner of the Our Water, Our Right Africa Coalition, to stop privatization by corporations like Veolia and Suez.
Africa Water Week website
On 13 October, a press conference is being organized as part of a historic Africa Week Against Water Privatisation, with actions in countries from Nigeria to Kenya and beyond.